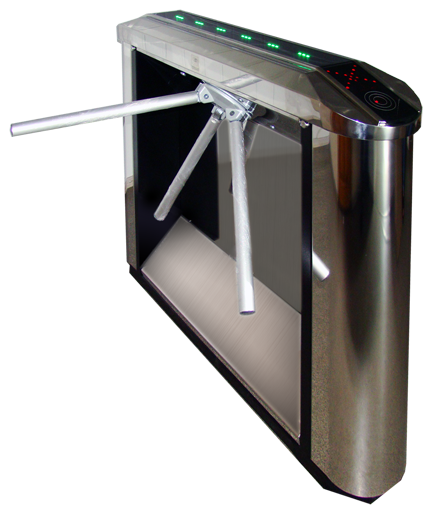 Features

The access indication takes place using a series of LEDs, from one end to the other, situated along the top part of the turnstile, while maintaining a modern and aesthetically attractive turnstile. Bidirectional rotation and the possibility to install any type of RFID or biometric reader, a button for manual access, etc.


Another important advantage is the automatic anti-panic feature. In the case that there is a power outage, the upper arm automatically drops, and when the electricity returns, the arm returns to its original position. This is to avoid forcing the users to move in order to manually rotate the arm of every turnstile, which occurs with other turnstiles on the market.
Features

Includes a standard install rack that is adjustable for the integration of any type of intelligent card reader, specifically under the elegant tinted glass plate.


The upper cover of Calisto is equipped with hinges, allowing a complete opening of 90 degrees for easy access to the mechanical and electronic parts. This is a key feature in the maintenance ease of this turnstile. Furthermore, the cover can be locked by key to guarantee the security of the access to its components.


Calisto includes a complete set of anchorages, bolts, user manuals and the Gate&Go™ guarantee.