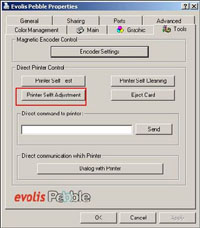 Evolis printers sensors adjustment
For Windows XP, go to the printer driver start==>Configuration==>Faxes and printers. Right click on the name of your Evolis printer, then select Properties.


Go to Tools.


Make sure you have a YMCKO colour ribbon inside of the Evolis printer, and at least one card in the card feeder.


Click Printer Self Adjustment. The printer will begin to auto-adjust. When its lights blink repeatedly, you will need to open the printer cover and close it again. Wait 3 seconds, then take the card feeder out and put it back again.


The printer will eject a card. Sensors are adjusted.
NOTE: Process valid for Pebble3 and Dualys 2 printers.