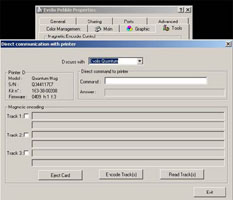 Magnetic Encoding
To encode or read the magnetic tracks of a plastic card, open your Evolis printer driver.


Windows XP users can access the Evolis driver by clicking Start ==> Settings ==> Printers and Faxes. Right click on the name of your Evolis printer, and select Properties.


Click the Tools tab.


Select Dialog with printer.


Select the magnetic track you want to use, click Encode Tracks if you want to write the card (must write the data to be encoded in the command line for each track), or Read Tracks to read the card.


Once the magnetic stripe encoding/reading has finished, the card remains inside the printer (this way you can encode and read the card immediately without further handling). Click on Eject Card to remove it from the Evolis Printer.