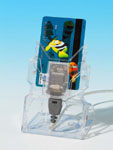 Gemplus Smart Card Reader
GemPC Twin USB is a simple and elegant reader of contact smart cards with its crystal presentation. It is compact (68 x 63 x 12 mm) and its selling price is competitive. Responding to standard smart card reading protocols, the GemPC is easy to integrate into a desktop solution for reading bank cards or identification cards. Developed by one of the biggest names in the smart card sector, Gemplus now Gemalto, it offers all the guarantees of result for the user.

Smart Card Reader Applications
Its typical applications extend to different sectors: physical or logical access control (access to computer stations, server rooms), electronic commerce, home banking, private electronic wallet, customer loyalty in stores. The GemPC Twin reader is ideal for the electrical personalization of standard smart cards on the market such as Siemens Infineon SLE5542.