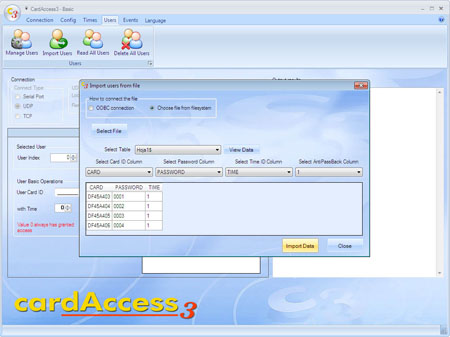 Main program functions

Import employee database. Compatible with Excel, Access and SQL.


If there is no existing database, CardAccess3 will help you automatically create one when you add new users.


Define access privileges, time slots, and profiles.


TCP/IP connection (Ethernet protocol) to terminal records: allows you to transfer user and authorisation lists.


Download records saved on the terminal memory.


Export data to your main system for posterior analysis and work time calculating, attendance time calculating, overtime calculating, etc.


Compatible with time and attendance terminals based on MIFARE LGM9600T-T-0C, LGM9600-T/2-2B, and on 125 MHz proximity cards LP500T-T-0C and LP500-T/2-2B.