Evolis Kiosk
Evolis Kiosk is an industrial card printer that can autonomously print up to 1000 cards. Includes various encoding options.
Read/write module with separate antenna for MIFARE cards
The LGM3xxxA reader module for MIFARE Ⓡ was developed specifically to answer integrators' demand for a highly customisable reader to solve the following problems:


The electronic module cannot be positionned near the antenna.


Room is very limited or fastening system requires the antenna to be in a different position.


A larger antenna is required for better reading distances.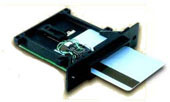 ID-Tech Spectrum 2 insert card readers
Spectrum is available with various configurations:


Insert contact smart card reader.


Insert magnetic stripe card reader.


Insert smart + magnetic card reader.