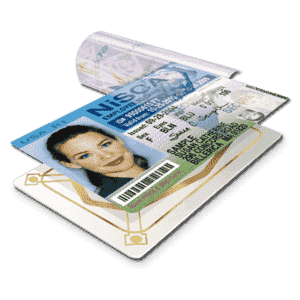 Nisca laminating ribbon with hologram
The Nisca printer, in addition to extremely high quality printing, allows transparent lamination of the identification card. The optional laminator of the Nisca C151 printer and C201 printer applies additional plastic protection to the card which gives it superior durability. In order to further secure the identification card and in addition to ultraviolet ink, the protective thick overlay may include a personalized security hologram.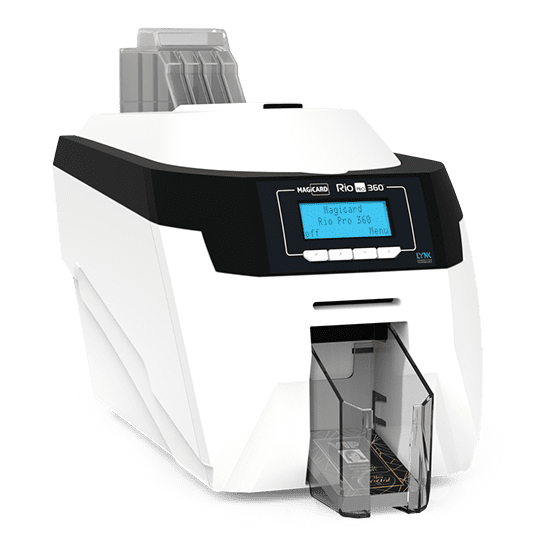 Magicard Rio Pro printer
The Magicard Rio Pro 360 is an ID badge printer of professional class that prints high quality edge-to-edge images, single sided or double-sided on white or printed PVC cards, in large quantities thanks to its 100 card charger and its 70 card hopper. Built for professionals, it is ideal for printing high volumes of cards including above 10,000 cards / year.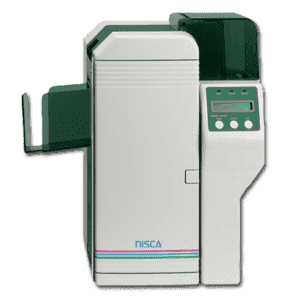 Nisca PR5350
The Nisca PR5350 badge printer prints, personalizes and laminates your badges in high-speed photo quality. It also allows their lamination with the deposit of a security hologram. The most powerful model in the Nisca range, with higher print quality than other card printers, for the highest level of card robustness and security. The PR5350 printer has recently evolved with new features and has become the Nisca C151.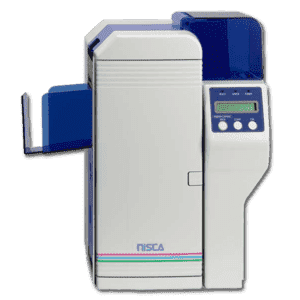 Nisca PR5310
Evolution of the PR5300 model, the Nisca PR5310 card printer with card laminating station with holograms and UV inks allows access to the print quality, resistance and security of cards which are the prerogative of Nisca plastic card printers. A fast printer, which prints color front-to-back edge to edge with unrivaled graphic quality. Nisca reliability in addition, and great ease thanks to its LCD screen for immediate access to configuration.