An RFID wristband designed for the youngest
Children don't really like having a wristband on their wrist. On the other hand, if this wristband is the image of their games or look like the characters of their favorite comics, the attractiveness of the product becomes quite different. Children will love their RFID bracelet, identifying themselves at checkpoints and RFID reading points will become a game. The overall experience will be improved for children and very much appreciated by their parents. Equip your leisure center with RFID rubber bracelets suitable for all your customers.
Silicone wristband for more comfort
The strap of the A3SILIKID RFID wristband is adaptable in length so that it will adapt to the wrist of the little ones. The material of the bracelet is a mix of silicone and PVC: flexible and adaptable, it follows the shape of the wrist without discomfort or pressure. Children will wear their RFID bracelet throughout their stay without noticing it.
MIFARE ® / NFC or 125Khz RFID wristband
The purpose of an RFID wristband is the automatic identification of visitors which allows entry to gates or turnstiles if the customer has paid for his ticket or entry. This identification is carried out by the RFID badge readers placed at the access control points.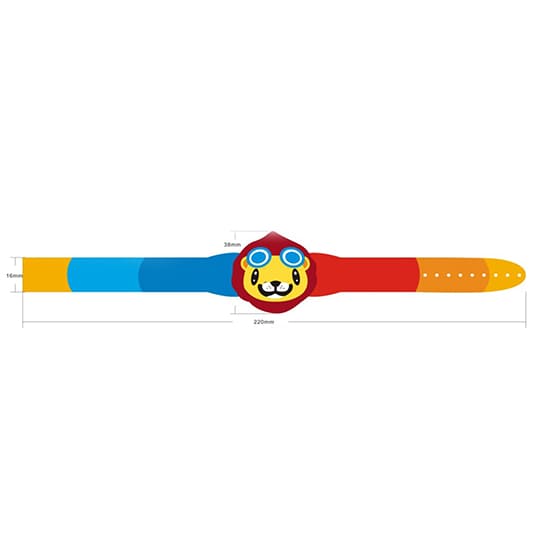 The A3SILIKID wristband contains an RFID chip or an NFC chip. The NFC wristband must be presented to the NFC reader to read the chip. This NFC reading is carried out a few centimeters from the reader antenna since NFC and RFID are short distance communication technologies. We supply your RFID wristbands with the most usual RFID chips: 13.56Mhz MIFARE ® chip or NFC MIFARE Ultralight ® chip, high security MIFARE DESFire ® chip, NFC Ntag213 chip or even low frequency 125Khz chip.
The A3SILIKID NFC wristband markets
Specially developed for leisure parks, the NFC silicone wristband is the ideal option for all sites hosting a family audience where RFID identification of children is desired. It is an ideal rubber bracelet for children in the following environments:


Leisure park wristband.


Leisure center wristband.


Water park wristband.


Camping wristband.


Swimming pool wristband.