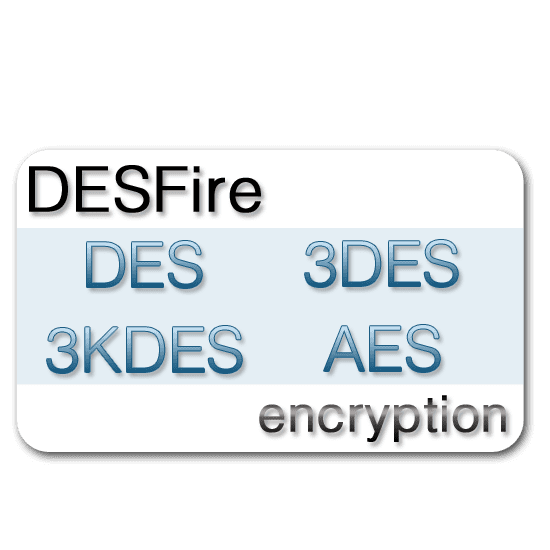 DESFire EV1 card security
The DESFire EV1 card 3DES encoding algorithm prevents pirated reading or writing of the RFID chip and meets the most critical security needs. DESFire ® complies with the ISO 14443A 1-4 standard and guarantees the anti-collision function. Each DESFire badge contains a unique UID serial number that guarantees its uniqueness and recognition, encoded on 7 bytes. This MIFARE DESFire ® badge is particularly suitable for corporate access control, as a public transport pass card, as a student identification card, or a social security card.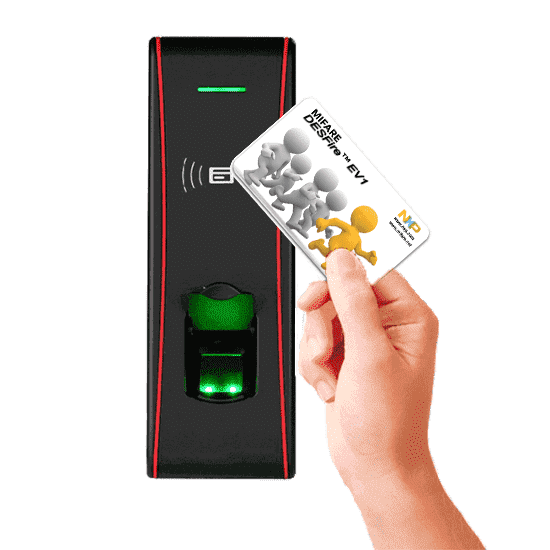 A MIFARE ® chip with important memory
We offer the DESFire ® badge in 3 versions with different memory capacities: DESFire 2K, DESFire 4K and DESFire 8K. The 4K version is the most common, and particularly allows to store fingerprint type biometric information for 1:1 identification on access control readers. This secure evolution of the MIFARE Classic® badge with flexible memory, offers fast data transmission, total security, and easily integrates with existing contactless RFID infrastructures.
Multi-application 13.56Mhz RFID card
The 4K DESFire card also allows you to control different applications with the same chip: a maximum of 28 applications, each with up to 8 security keys. Manage your high security access control, the one of other buildings or branches, parking access, your business catering, vending machines, access to photocopiers etc... A whole range of possibilities is offered to you with the access card MIFARE DESFire®.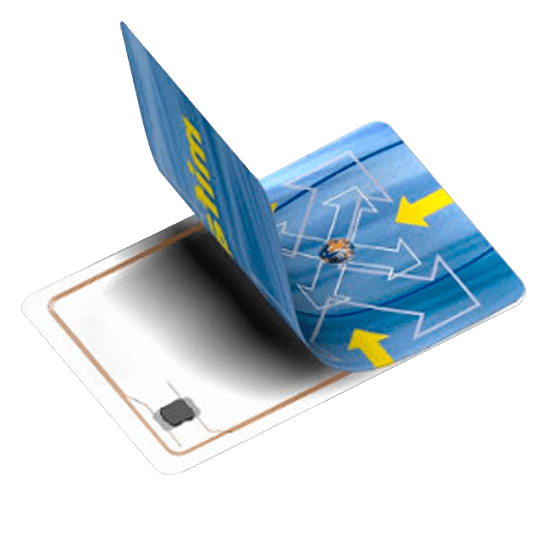 DESFire ID card printing
You can print your DESFire cards with one of our card printers, we particularly recommend the 600dpi Nisca C201 Retransfer Printer Resolution. If you plan to reuse each badge for multiple employees one after the other, use our printable adhesive badge by pasting it on the DESFire card. You can take it off to stick a new one; the resulting savings will be significant.
Contactless chip MIFARE DESFire EV1 to EV2 evolution
NXP is evolving its high security NFC chip! The electronic chip DESFire EV2 version has appeared during the last summer 2019. With EV2, your access cards reading will be even faster because the communication distance of this RFID tag with the card reader has been improved.
DESFire chip versions compatibility
A feature that will make your life and your access control system easier: DESFire EV2 is compatible with the EV1 chip contactless functions. Which means that you can either buy DESFire cards in EV1 and EV2 version for your physical access control, it will work in exactly the same way, with just a better distance for the new version.
Other EV2 chip evolutions
Series of additional enhancements have been made, in particular to increase the security level provided in a DESFire card access control. But you can only benefit from these evolutions if your RFID readers and your application are compatible and can evolve to activate certain functions. The most significant developments are as follows.
Rotating DESFire keys
The access keys can be configured as rotating and no longer fixed. In the event of a security breach, the keys of an secluded card can be modified without having to take all the access system cards to modify their DESFire keys.
Separate key management for each application
Key management is now separated for each application stored in the MIFARE DESFire EV2 card, a chip that by definition is multi-application (note that the number of applications is now unlimited, instead of the limit of 28 applications previously put on EV1).
The multi-application card: easier management
The organization using this badge can now order from a subcontractor or integrator a new application that it would need. This integrator will be able to place its own security keys for this application without having to communicate the other used keys or the DESFire card Master Key.