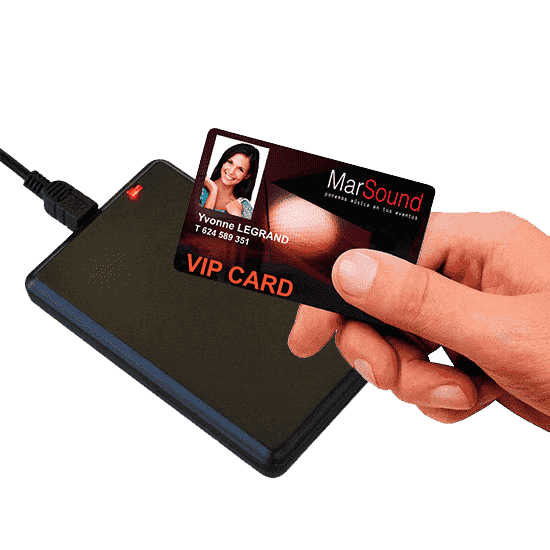 MIFARE ® contactless card for access control system
The advantage of the MIFARE ® technology is that, like any RFID tag, no physical contact should take place to read or encode this chip card. To swipe in, it is enough to approach the ID card ( MIFARE receiver ) of the tag reader ( MIFARE transmitter ) to carry out the transaction.
MIFARE is synonymous with easiness
The MIFARE tag is easy to use and the applications based on MIFARE ® cards and encoder readers are maintenance-free. The MIFARE card is also known as Vigik, the ID card system that allows electronic access control in residential buildings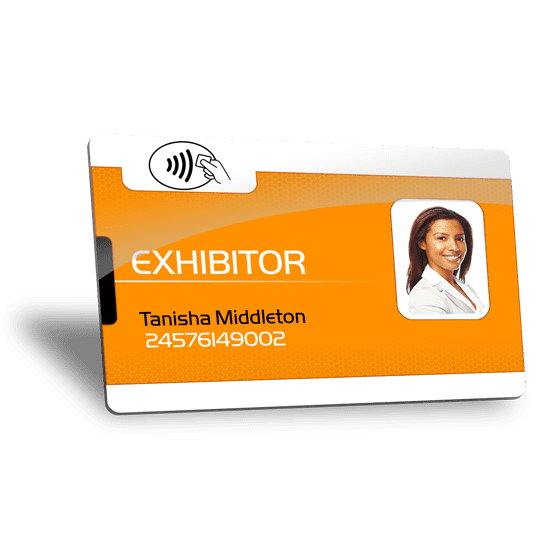 MIFARE® chip markets
The MIFARE ® RFID card allows you to control a public transport ticket or loyalty card, event access (stadiums, exhibitions, leisure parks), an electronic purse, corporate identification with personalized card as a badge visitor only as an employee badge.
The MIFARE card in company environment
You probably have a habit of applying for a custom ID card when you go to a company. To place it in a card holder and present it in front of the proximity reader wherever you see controlled access. The MIFARE tag thus ensures the access control security.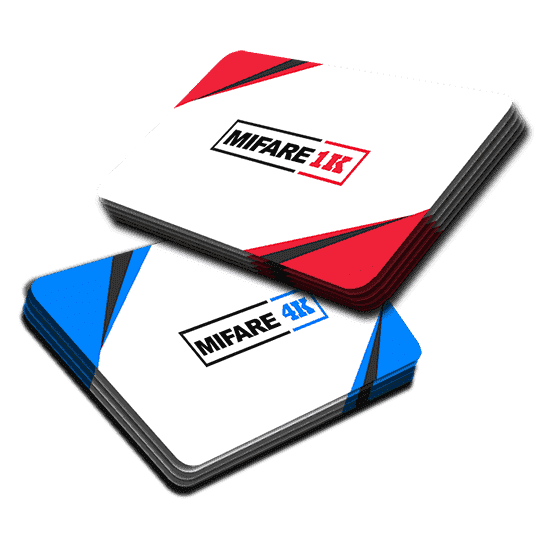 What are the MIFARE card functions?
MIFARE is a technology largely used for time attendance solutions. It guarantees that only staff with a card will have access to protected areas (official and administrative bodies, police gendarmerie, companies). The ideal solution for integrators and operators who wish to set up their contactless ticketing system.
MIFARE® 1K card chip structure and memory
Each MIFARE chip is manufactured with a MIFARE® USN Unique Serial Number of 4 or 7 bytes depending on its version. Its memory to write your data is divided into sectors and blocks. There are two versions of the MIFARE card:
The 1K MIFARE card (memory 1Ko) whose memory has 16 sectors of 4 data blocks each, available for writing data.
The 4K MIFARE card and its securing
The 4K MIFARE card (memory 4Ko) whose memory has 32 sectors of 4 blocks each and 8 sectors of 16 blocks. The 1Ko MIFARE card is by far the most used. The 4Ko MIFARE card is generally reserved for biometric access applications with a card or fingerprint where the fingerprint precision is stored in the MIFARE memory.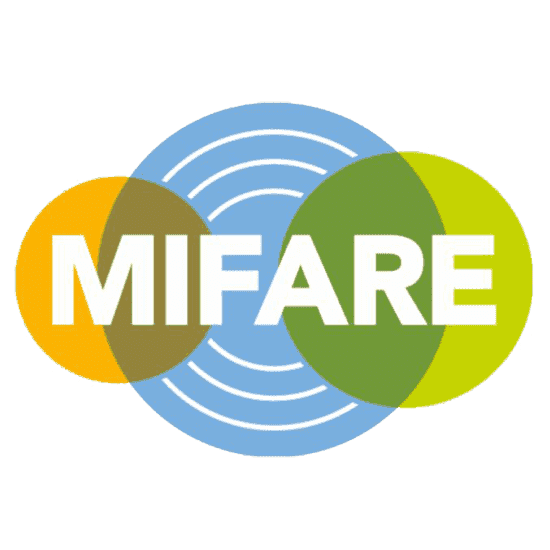 NXP technology MIFARE card
NXP inventor of the MIFARE® technology and holder of the MIFARE brand: Several RFID chips compatible with MIFARE® are available, but the most used MIFARE card in access control is the one from NXP ( MIFARE NXP ). It offers the expected result guarantee from a renowned RFID chip manufacturer like NXP. For more information on the MIFARE ID card, visit the MIFARE chip manufacturer's website.
Standard MIFARE® card
The 13.56 Mhz MIFARE card complies with the MIFARE ISO 14443A standard. As a card manufacturer, A3M offers the MIFARE Classic card in premium quality PVC overlay, standard size 86 * 54 mm. The MIFARE card also exists in other formats such as the MIFARE key tag, the MIFARE silicone bracelet, the MIFARE rugged tag or the RFID tags.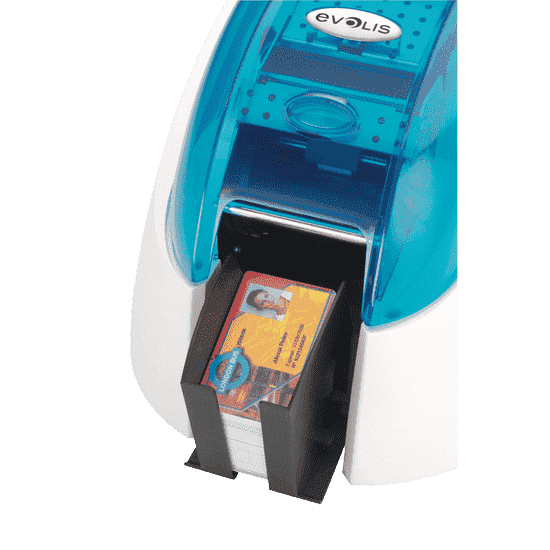 Reday to print MIFARE ® card
The RFID chip MIFARE card that we produce has a high quality laminated surface overlay and can be printed with the printer of your choice (Evolis, Magicard, HiTi and especially Nisca which will offer a very good printing quality).
Upon request, A3M supplies your MIFARE ® offset printed cards. You will be able to make yourself the custom access ID cards of your physical access control system.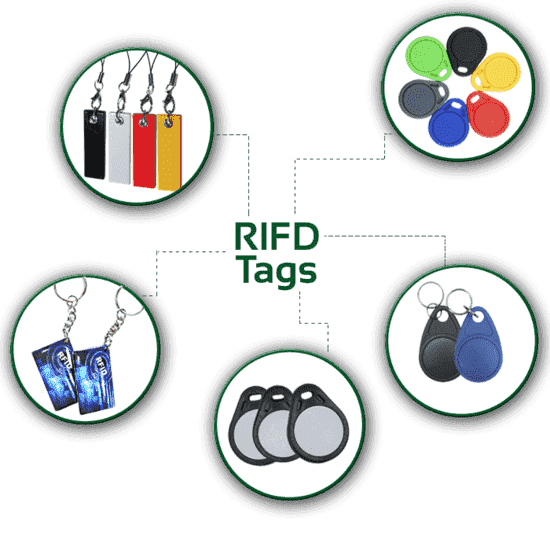 Why not use the MIFARE card in keyfob format?
The MIFARE badge is no longer only available in MIFARE PVC card format! You can now choose your MIFARE card as a keyfob. A compact size for this completely waterproof RFID badge that tends to be popular in areas where having a MIFARE PVC badge is a discomfort.
Its favorite markets are the swimming pool, the spa, the sports club, the campsite or the aquatic center. You may also use MIFARE wristbands as badges in such environments.