Manufacturer of blank white PVC card
A3M offers the blank PVC card at the best price: you won't find it cheaper anywhere. A white PVC card in standard badge format 86x54mm (usual format for bank cards). Its thickness is 0.76mm, it complies with ISO 7810-CR80.
This white badge is of Premium quality, with a coating called laminate overlay in the jargon of card manufacturers. This means that the blank A3M card is provided on its surface and on each side with a plastic film that receives heat and color transfer by sublimation or thermal transfer. Ready to be printed, you can personalize your blank PVC badge as desired with the guarantee of the best quality.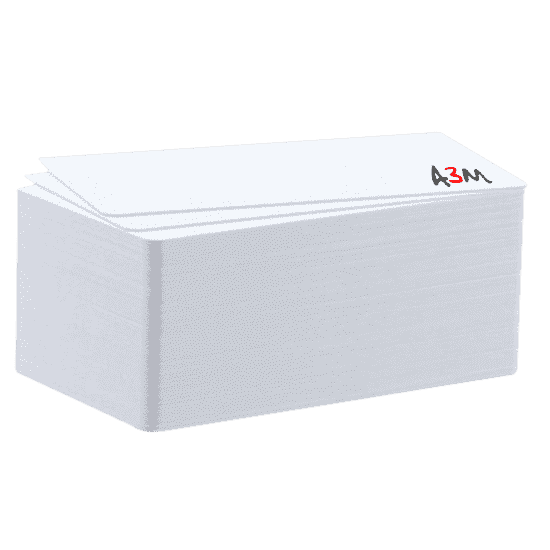 Quality and finish of the blank PVC badge
The blank A3M badge passes the strictest quality controls because it responds to an extremely precise manufacturing process as imposed by each manufacturer of card printers. The card format badge has perfectly smooth, non-cutting edges and a lamination which is particularly receptive to thermal transfer. This level of finish gives it a superior quality for corporate badges of very good presentation.
Packing of cards in reams
Packed in reams of special, dust-free cardboard to prevent the spread of residue, the A3M PVC identification cards help keep your thermal sublimation printer in optimum condition. The reduced presence of impurities on the laminating surface of the blank card prevents damage to the print head and the drive rollers, parts sensitive to dust, residues or sharp edges. The printer manufacturer's warranty does not apply in the event of the use of consumables of unsuitable quality.
Exceptional quality / price ratio
Its standard badge format 86x54mm and its controlled thickness of 0.76mm make the white PVC A3M card an ideal consumable to be printed and personalized by badge printers of all brands offering the best print quality. If you are looking to buy PVC cards at the best price, contact us. If you are looking for a badge printer, do not hesitate to consult our selected range of PVC card printers. Contact us also if you wish to obtain the contact details of an official A3M reseller for a local purchase for the PVC plastic card product.
Watch out for cheap cards
We recommend that you pay close attention to the quality of the cards used to print with your card printer: poor quality cards can damage the printhead of your printer (horizontal white stripe on the printed card, see photo) as well its drive rollers due to poor cutting (edges of cutting cards) or impurities on the rolling surface. Please note that the printer manufacturer will refuse to apply the warranty if the consumables are of unsuitable quality.