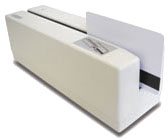 Features

High precision mechanism that guarantees a smooth operation that is not affected by the high speed the cards pass with.


Encoding program included free of charge. Allows you to import databases in text format and to encode cards in batch.


Accepts all cards that are compliant with ISO/IEC 7811; 1, 2 and 3 tracks.


Reads and writes magnetic stripes from all types of supports: cards, tickets.


LoCo / HiCo configuration with a simple button in the configuration program.


Upper magnetic head has a life of more than 1,000,000 passes.


Bicolor LED for state indication.


Casing colour: beige.