Proximity 125 Khz ID cards
125kHz cards are contactless plastic cards with RFID technology and are generally called proximity cards.
125KHz and MIFARE technologies dual frequency Reader
Ideal card reader for companies and administrations that need to use both a previous 125KHz technology with a more modern access control system or time and attendance system based on 13.56MHz MIFARE Ⓡ technology.
EM 125kHz mini desktop reader
LP200 desktop reader is a low cost solution for EM4100 and issuing and programming for compatible cards. It is a very easy to use device and provides RS232 and PS2 output data format for direct communication with your PC.
EM 125kHz Intelligent Time and Attendance Terminal
A3M LGP8600 is a wall mount terminal designed for access control and time and attendance solutions. Its keyboard and LCD screen make it the ideal choice for high security access control, as well as for stand-alone applications in which an administrator may need to give access rights to some cards directly on the terminal, or change access control PIN codes, etc...
125Khz access control door reader
A3M LP5500 reader series is designed for reading EM4100 codes or compatible read-only tags. It is an innovative design which is multi-interface in one board. It can be used in office/home security, personal identification, access control, anti-forgery and production control systems, etc.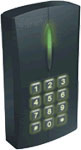 EM 125kHz access control door reader with keyboard
This door reader is based on the same electronic design as our standard LP5000 access control door reader. It also incorporates a numeric keyboard which makes it the ideal product in all applications where the user has to identify himself with a PIN code.