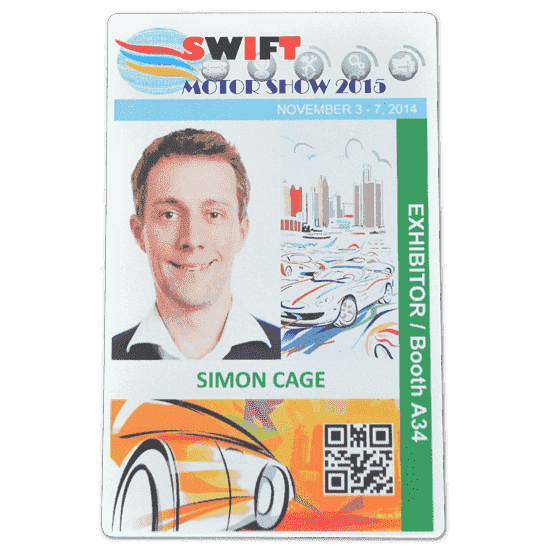 Nisca Swiftcolor is a large format card printer
The Nisca Swiftcolor can print on cards of various formats. Although it maintains all the services of the SCC2000D as well as the printing of the standard plastic card format of 86x54mm, the SCC4000D is particularly interesting for its large format badge printing capacity: from the standard 140 x 89mm , passing through the 127 x 89 mm, and being able to go up to 300mm long by 100mm wide.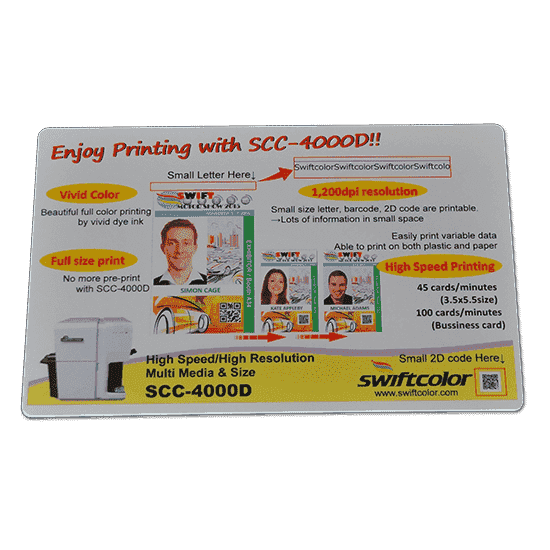 Swiftcolor prints the entire surface of the card
Unlike the old Eltron or Magicard XXL printers which limited the printing area to 86x54mm, forcing the rest of the card to be pre-printed, the Swiftcolor SCC4000D prints on the entire surface of the badge, regardless of the type of image, text or barcode chosen. The printer therefore offers absolutely total flexibility for making badges. However, you will need to provide a technical white margin of 2mm around the edge of the badge.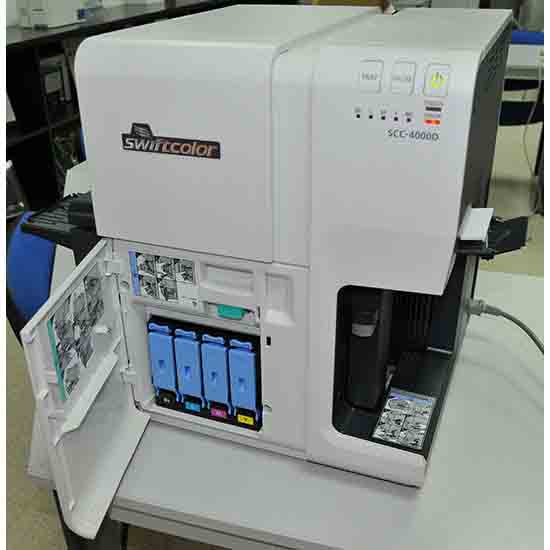 Very high inkjet print speed
The SCC4000D large format card printer has a printing speed completely unknown until now: one second for a standard format card, and less than two seconds for a large format card printed in full color! Inkjet technology is mastered by Nisca like never before.
Matt or glossy finish of your event card
With a Swiftcolor SCC-4000D, you can print your badges in glossy finish as with small format badge printers in thermal sublimation, but you can also print them in matte finish. The mat badge offers a visually pleasing presentation, a velvety and delicate touch, and is not sensitive to fingerprints. Matt and shiny badges are the same price.
Very low printing cost
The cost of printing varies depending on the filling of your badges, and the cartridges consumed depend on the dominant colors that you print. If you wish, send us your image and we will calculate the cost. The most commonly seen printing price is around 2 cents per large format badge. Or a price about 12 times lower than badge printers from other manufacturers and technologies.
Swiftcolor prints cardboard ID cards for events
Nisca printers from the Swiftcolor range also allow color printing on paper or cardboard supports of various sizes, the admissible thickness of these supports being from 0.2 to 0.8mm. Ideal for business card, invitation format, large format badge, envelope… A whole range of possibilities is available to you!