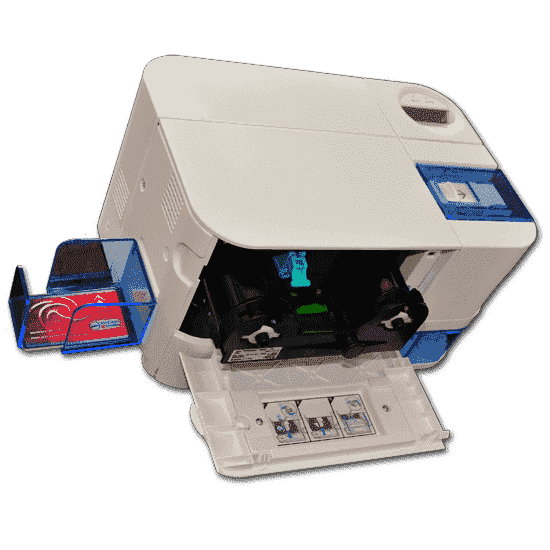 Compact Nisca printer ideal for counter use
Compact card printer, the Nisca C101 takes up just the space you need and can be easily placed in an office, reception desk or point of sale. The C101 also offers the possibility of setting the output of printed cards on the same side as the card feeder, for greater ease of use. Its rotating screen allows it to be positioned in the most convenient direction while retaining perfect control of operations.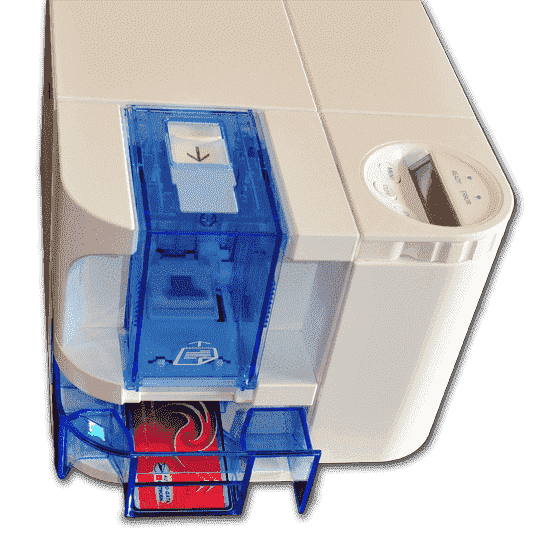 Nisca card feeder: absolutely awesome
Nisca has created a fabulous card loader for its C101 printer. Large capacity, it accommodates 100 cards in standard thickness 0,76mm. With one touch, it opens fully at the top and on the side to load the cards easily, even while the printer is printing the cards. Extractable, it can be removed from the printer which allows among other things to prepare a second charger in advance.
Nisca ribbon cartridge for less handling
The Nisca print ribbon is integrated in a cassette for easier change and less handling. The color ribbon of the C101 printer provides up to 250 card prints. Nisca black ribbons have up to 1,000 prints for monochrome badges.
Cleaning of inserted PVC cards for less printing defects
The ribbon cassette of the Nisca C101 printer incorporates its own card cleaning system. So that by changing the tape, the card cleaning system is also changed for a new one. The efficiency of the Nisca consumable system is total; printing defects caused by dust and other particles are now a thing of the past ...
PVC card editing software for Nisca printer
The C101 comes with the easiest to use card editing software: Cardream3. This turnkey solution is ideal for printing all corporate badges, school and university cards, club membership cards, association, casino, loyalty cards, ... in a completely intuitive way.
Driver Windows Nisca C101
The Nisca C101 printer benefits from a particularly complete and comprehensive Windows driver for image quality control. A driver developed by professionals of printing identification cards. The Nisca driver makes it possible to maximize the quality of the printing of each card design, as no other card printer can do.
The Nisca C101 has a defective card hopper
The Nisca C101 has a second card hopper which makes it possible to distinguish correctly printed or encoded cards from those which experienced a problem during the process. These cards will be directed to the defective card hopper located just under the main card feeder.
The Nisca C101 card printer is easy to use
To make printing PVC cards simpler, Nisca has focused on accessibility to all the functions of the C101 printer. The receptacle for printed cards is simple and handy with wide indentations to take cards more easily. The cover of the C101 opens wide for easier loading of the black or color ribbon cartridge.