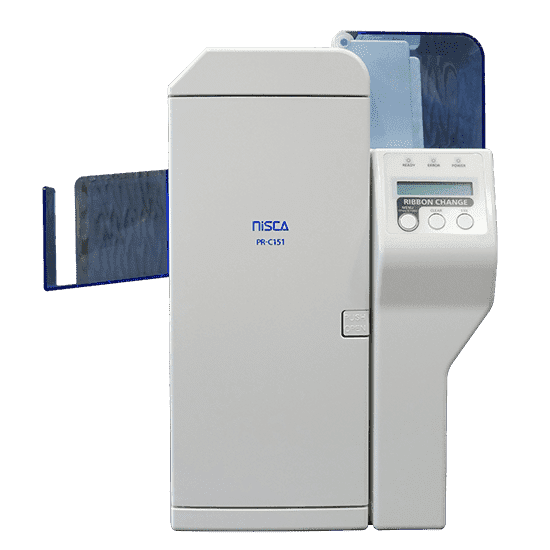 Nisca C151: quality and speed of printing PVC badges
The Nisca PR-C151 prints up to 144 color cards edge to edge per hour while maintaining its unmatched print quality thanks to its Nisca 24-bit linear sublimation technology. Like all Nisca products, this card printer has industrial reliability. A guarantee of long-term sustainability that pays for your investment.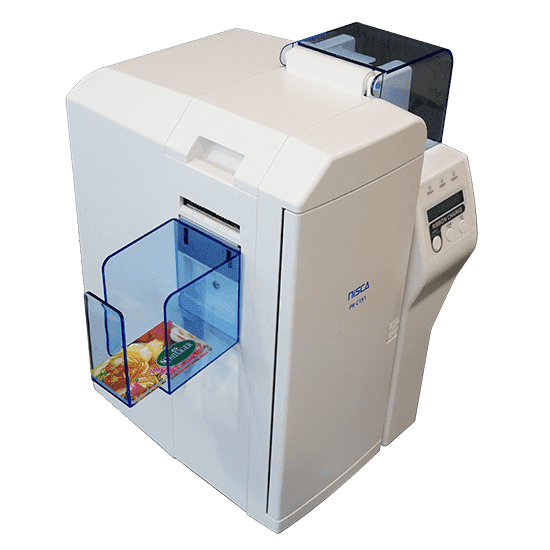 Nisca Automated Front / Back Card Printer
The Nisca C151 prints your badges on both sides automatically and without manual intervention. Depending on the ribbon inserted in the printer, it is possible to print the badges in color on both sides (YMCKO ribbon) or color on the front with black text on the back (YMCKOK ribbon). The LCD screen of the Nisca printer also offers greater ease and control of operations in progress.
Laminating security badges using the Nisca laminator
The Nisca C151 printer allows the use of the Nisca L151 badge laminator for affixing a security hologram 25 microns thick on your badges. The Nisca hologram offers both visual security of the badge and a lifespan of more than 5 years in daily use.
Nisca printer prints UV security ink and micro text
The Nisca YMCFK ribbon allows ultraviolet printing on the badge for an additional level of security. The badge with UV ink can be checked with a special lamp called "black light". The Nisca C151 printer is also one of the very few badge printers capable of printing micro-texts on badges in order to further increase their level of anti-forgery security.
The Nisca printer also encodes your identification badges
Finally, the PR-C151 printer is also available with integrated badge encoders: encoder for magnetic badge or RFID badge encoder (MIFARE badge type A or B, compliant with ISO 14443 standard). The Nisca C151 printer then becomes a veritable industrial system for printing, personalizing, encoding and laminating tamper-proof identification badges.