TTSBPT4P is a motorized rising barrier intended to control the entry of vehicles into indoor or underground car parks. The usual height problem faced in this type of parking is solved with this barrier thanks to its automatic folding arm system: the barrier arm folds during its up and down movement.
Demonstrated automatic barrier reliability
The body of the barrier and its rising mechanism are borrowed from those of the TTSBPT4 motorized rising barrier. A vehicle barrier which is successfully used in a large number of outdoor car parks as well as in construction sites of the most important players in the construction industry.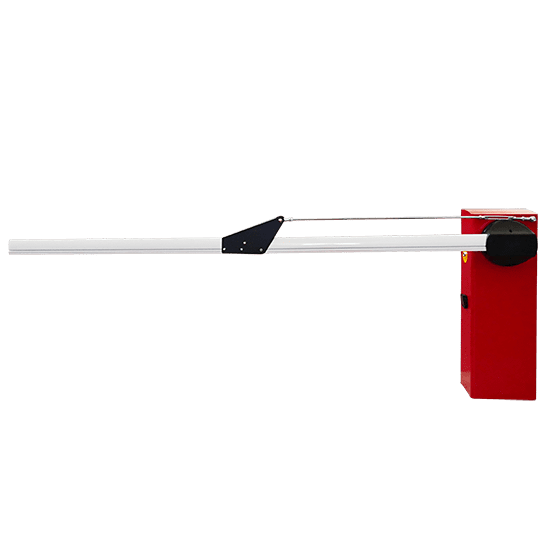 Barrier arm length adaptable to your parking entrance
The arm of the TTSBPT4P automatic car park barrier can be precisely adapted to the width available for the entry of cars. The total length of the arm (the barrier beam in our professional speaking) can be modified by individual adjustment of the length of each of the two parts of the arm: the part rising vertically + the part remaining horizontal.
A clever lever system folds up the arm when it goes up. This arrangement also makes it possible to adjust the motorized barrier as a function of the height available under the ceiling at the place of its installation. The vertical part of the arm can be shortened and the horizontal part lengthened. In this way the total vertical size of the car park barrier is less for the same width of passage closure.
Motorized car park barrier control system
The TTSBPT4P barrier accepts all the control modes usually used in private or public car parks. The parking management and payment systems can be interfaced directly by connecting their relay output to the control input on the barrier motherboard. It is perfectly possible to control the automatic barrier gate by remote control (up to 1000 remote controls per barrier), or control console.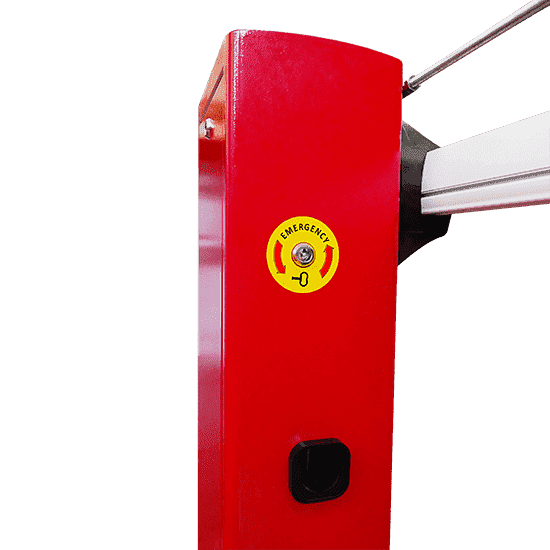 Automatic car park barrier security
The TTSBPT4P automatic rising arm barrier has several security and protection systems. A photocell located on the other side of the vehicle passage detects the presence of a possible obstacle. If a car is detected while the arm is closing, its movement is stopped and the arm rises until the obstacle disappears.
An optional lighting enhances the visibility of the barrier arm in the dark. To reinforce the protection of vehicles in the event of an impact, the lower part of the arm consists of a rubber flange intended to avoid as much as possible any possible damage.
If the barrier is forced by a vehicle, its arm is designed to act as a fuse and avoid significant damage to the parking barrier. The aluminum arm bends under the force exerted by the vehicle and protects the body and the mechanism of the automatic barrier gate.