Evolis ribbon with half-length color panels
The range of Evolis transfer ribbons includes the reference 1/2 YMCKO, a particular color four-color ribbon: while its black and varnish (overlay) panels are of normal size, those of yellow, Magenta and Cyan are half length. This ribbon therefore makes it possible to print color on half of the card (right half or left half).
Black printing and full card overlay
The black and varnished panels are whole, so it is perfectly possible to customize badges in black for texts or bar codes on the entire surface. In the same way, the protective overlay will apply over the entire surface of the badge to completely protect it.
The lowest price to personalize your cards
This ribbon is particularly recommended for personalization of pre-printed cards, when it is necessary to print a color photo and variable text elements in black. Examples of applications: club cards, student cards, association membership cards, access control badges, etc.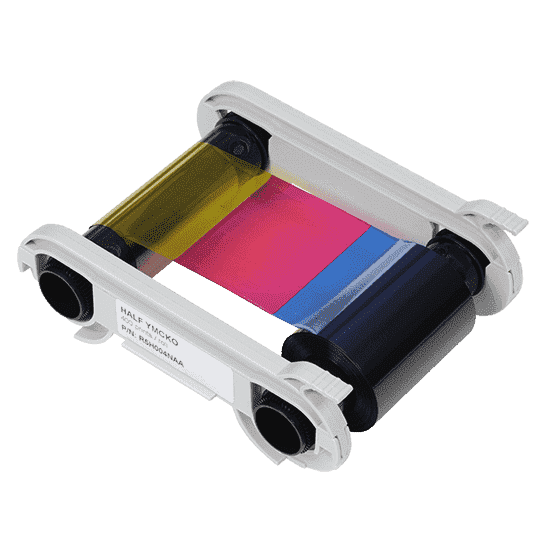 A ribbon available for Zenius and Primacy printers
The Evolis half-panel color ribbon saves more than 40% in terms of card printing cost, and therefore provides a significant competitive advantage for Evolis printers Zenius and Primacy by lowering their cost of use. Be careful however, ask us for advice for your application: the half-panel ribbon prints in color on the left or right half of the card, so no photo in the middle, only black text!