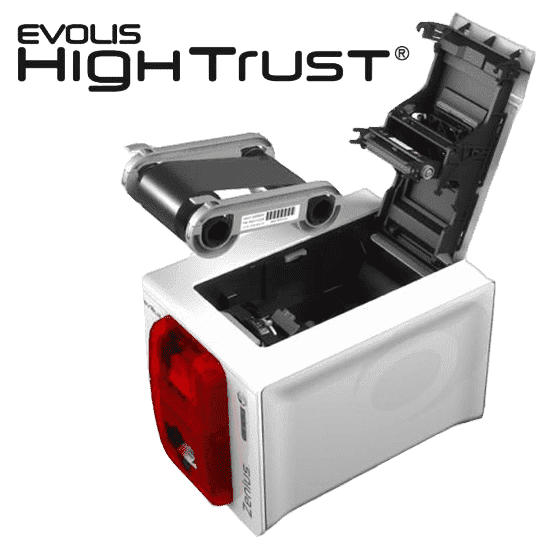 Evolis Zenius printer: single side printing on plastic cards
The French manufacturer of card printers was a pioneer in terms of quality of color printing on PVC cards. This Zenius printer is part of the continuity with precise, constant color printing, undemanding in terms of the quality of PVC cards. The Evolis Zenius driver and A3M Cardream3 software incorporate advanced image optimization algorithms. Print high-definition beautiful identification cards, loyalty cards, access badges ...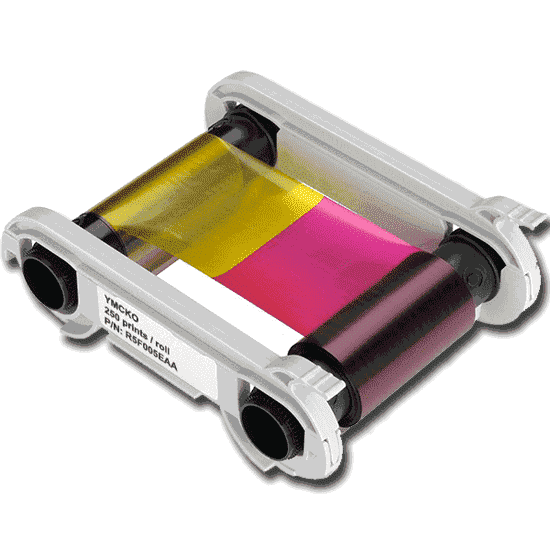 Color ribbon for Zenius Evolis printer
The Evolis R5F002EAA color printing ribbon is optimized in its materials and pigmentation. It prints vivid images, logos respectful of their colors and realistic photos. As a cartridge to slide inside the Zenius printer, it is very easy to handle. Make sure you buy original Evolis High Trust ribbon. The black ribbon reference RCT023NAA for Zenius printer offers a range of 2000 personalized cards in black on one side.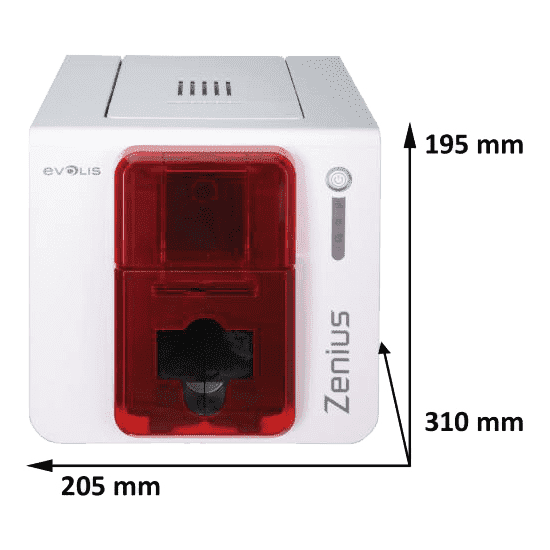 Easy-to-use compact footprint ID card printer
Evolis Zenius was developed with the main objective of ease of use. Its contemporary design concentrates a maximum of advanced functions in a compact card printer. Its main elements are thus all located on the front of the printer:


Charger and receptacle located on the front of the Zenius printer


Manual loader for front insertion of the card


LED control panel on the front of the Zenius.
Evolis Zenius: light and silent card printer
The low sound volume of 46dB (A) emitted by this Zenius printer allows it to integrate into all environments. You can therefore print your PVC cards at the office, at a reception counter or at a counter. Its light weight of 3.3 kg also allows it to be transported easily, the Evolis Zenius printer is ideal in applications for mobile issuance of event type cards.
Evolis High Trust Consumables
The range of Evolis High Trust® consumables was developed specifically by Evolis for its Zenius printer. The R5F002EAA color ribbon offers the best ID cards printing results and maximum simplicity for the user. A simple gesture is enough and you will have placed the ink cartridge in your card printer. Evolis Zenius immediately recognizes the color ribbon thus placed thanks to its electronic chip. It adapts the card printing configuration automatically.
Low power consumption card printer
The Zenius card printer, thanks to, among other things, its sleep mode, meets the very strict European ErP directive, which rewards efforts in terms of energy efficiency. The French manufacturer Evolis is more than ever committed to its environmental approach and deploys its efforts in order to produce a card printer with low power consumption: standby mode, ENERGY STAR certification, compliant with the European ErP directive.
Evolis Zenius evolves with its encoders
Evolis Zenius is equipped with the latest technologies in terms of card printing. In its Zenius Expert printer version, it can have multiple encoders. A flexibility that allows Evolis Zenius to constantly adapt to the evolution of your personalization needs on PVC cards. Thanks to its direct access to the connectors, on-site configuration becomes possible, allowing the addition of specific modules. The [magnetic stripe | Magnetic stripe> art45] encoder and the smart card encoding station can also be combined in the same Zenius printer.
Zenius Classic USB or Zenius Expert Ethernet printer
The Zenius printer has connectors on the back dedicated to its power transformer and its data cable. Zenius Classic is the standard model, it only connects by USB. Zenius Expert has both USB and Ethernet ports for printing network cards.