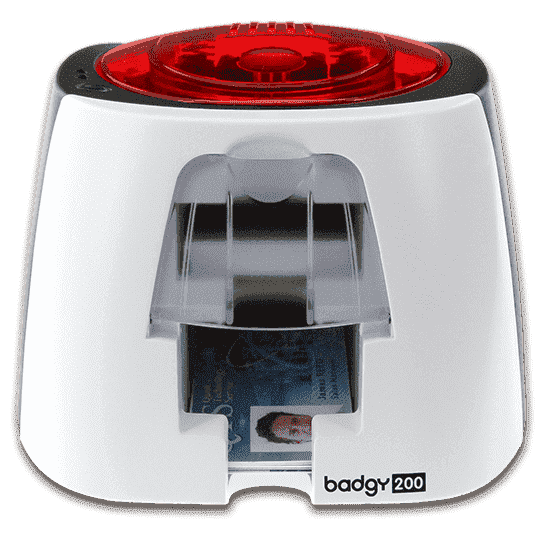 Badgy is a PVC card printer for small print volumes
Evolis badgy was developed as a compact and inexpensive card printer: it puts card issuing within the reach of any gym, fitness club, association or company. We recommend it for up to 500 color printed cards per year. The print quality of the Badgy printer is not to be outdone; it uses thermal dye sublimation technology like higher category printers as Evolis Zenius, Evolis Primacy or even competitors like Zebra, Datacard or Fargo printers. Print your personalized cards in 300 dpi with vivid colors.
Badgy Printer: simplified card printing in the office
Badgy is as easy to use as any office printer: only driver installation is required and you can print from any application. For even more convenience, it includes dedicated software with predefined ID card templates: Badge Studio.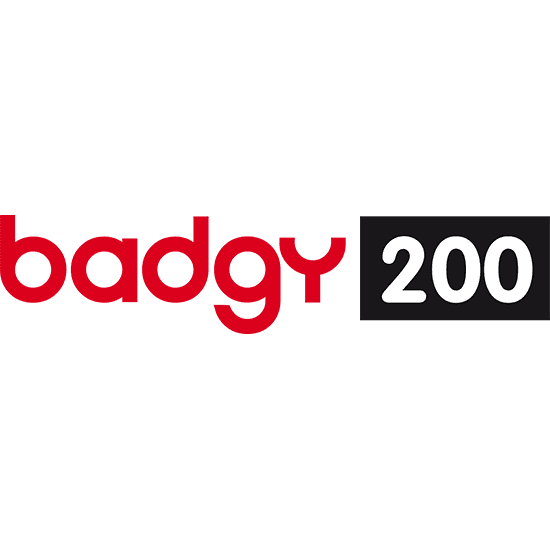 Badgy 200: complete kit for easy card making
A3M, official Evolis Distributor, supplies Badgy in a complete kit for manufacturing cards. Includes a Badgy printer, a 100-print color ribbon, 100 white PVC cards and Badge Studio + card editing software which also allows linking to an Excel sheet and printing of small series of color printed personalized cards.
Printing PVC cards at your fingertips with Evolis Badgy200
Evolis Badgy's low selling price makes PVC card printing available to many customers: companies for their employee and visitor cards, stores for their loyalty cards, clubs sports for their membership or member cards, schools for the student card, etc ...
Buy an Evolis Badgy printer and it's a world of creative horizons that will open up to you to print all your plastic cards!
Evolis consumables supplied in kits for easier use
Evolis offers the consumable in the form of a printing kit under the reference CBGP0001C which includes both the color ribbon for 100 prints and 100 blank white PVC cards. If you prefer, you can also purchase separately the CBGR0100C color ribbon, the CBGR0500K black ribbon and the CBGC0030W white cards.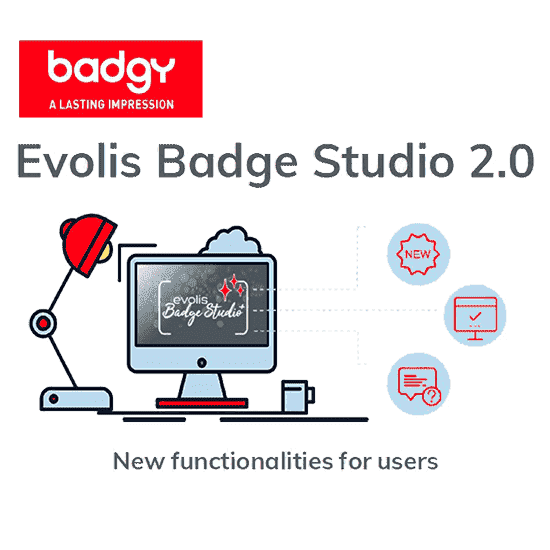 June 2020: evolution of Badge Studio software
Evolis is still evolving at the start of this summer to give us the benefit of a version that is both more advanced and easier to use of its badge printing software supplied with its Badgy printer.
Evolis Badge Studio 2.0 is:


A new, more user-friendly graphical interface where the creation of your card models is more natural.


Two versions of the software: Badge Studio Start Edition for the Badgy100 printer and Badge Studio Plus Edition for the Evolis Badgy200 printer. Badge Studio Plus Edition allows the import of an Excel database with a wizard which simplifies the import of data.


Even more badge models which, depending on your activity or profession, simplify the presentation of your corporate badge.
Backward compatibility between older versions of Badge Studio and Badge Studio version V2.0 is ensured.
Evolis presents a more mature offer and strengthens the value for money of its Badgy printer. Contact us for an offer or simply more information.