Magicard300 professional card printer
The new Magicard 300 printer has been developed to print your personalized PVC cards, either one by one or in small series. It offers professional print quality, a resolution of 300dpi and a speed of 23 seconds per custom single-sided color card.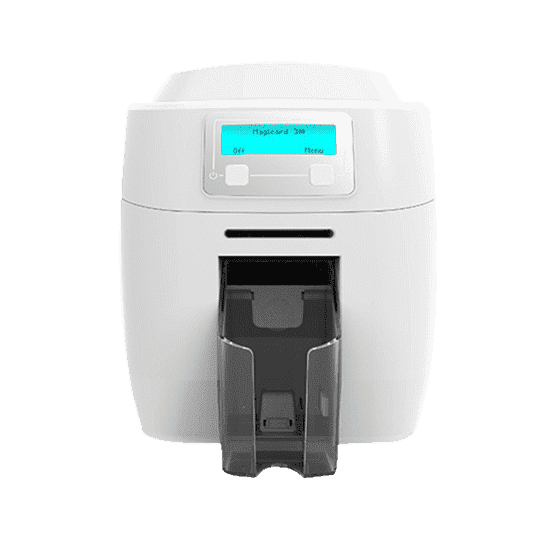 Protection of personal data entered on the badge
When customizing a PVC card with a card printer, the personal data used persists in memory in the driver and in the printer memory. Magicard has equipped its new model with digital shredding (TM) technology, which instantly destroys all traces of this personal data.
Magicard 300 of course also offers the Magicard Holokote card security system. It allows the printing of a thin transparent watermark which simulates a hologram and reinforces the visual protection of your cards while reducing the risk of forgery. Holokote offers 3 predefined visuals as standard. But you can also choose to print your logo or any image of your choice. With a Magicard 300 printer, you can safely manufacture cards while protecting your company's brand image.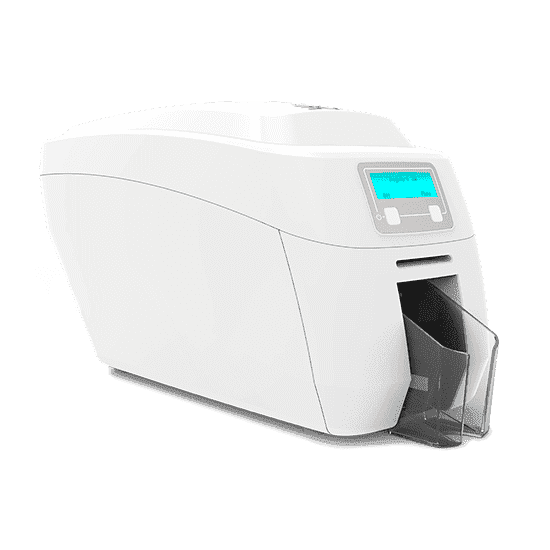 Choose single-sided or double-sided card printing
Magicard 300 is available in two versions. The Magicard300 UNO printer prints in color or black and white in simplex mode. Although you can also reinsert the badge upside down to print it on the back. Its Magicard300 DUO prints in duplex mode automatically and simplifies operations.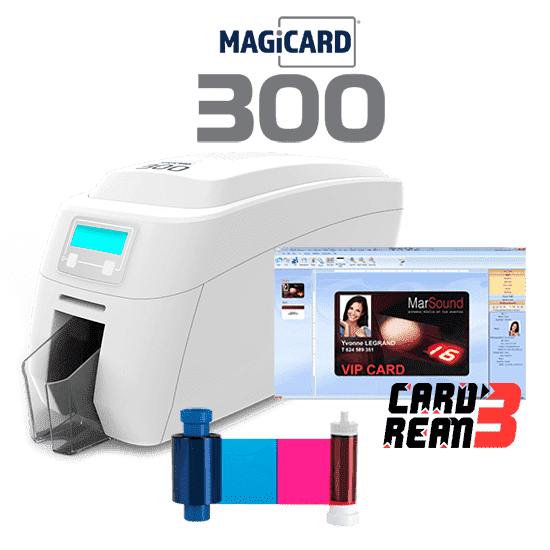 Consumable for Magicard printer
The manufacturer offers a complete line of consumables for the Magicard300 printer. Features the Magicard MC300YMCKO Color Ribbon which allows printing of 300 cards on one side (or 150 double-sided color cards with the Magicard 300 DUO printer). The color printing quality offered by the original Magicard ribbon is at the level of the best market standards.
3 years Magicard warranty
Your investment is protected by a 3-year manufacturer's warranty. Magicard warranty includes the printhead for the same duration up to a limit of 250,000 printed panels. The Magicard warranty may be void for the use of non-approved consumables, as well as for physical damage to the printhead.
Badge editing and printing software
Magicard does not provide software with its Model 300 badge printer. But if you contact an A3M reseller you will be able to benefit from free Cardream3 Expert software licence for the purchase of the printer. A software developed by A3M and widely regarded as the best for easily printing and personalizing PVC cards.
Personalization of offset printed cards
Owning a Magicard printer offers two possibilities. You can choose to print your identification cards in color with the Magicard MC300YMCKO color ribbon. This printing ribbon prints the badge background edge to edge and all the personalization data: the photo, first and last names, a barcode.
Another possibility is to buy cards printed in offset. Your Magicard printer will then allow you to personalize them either with a colored ribbon if you are printing the ID photo, or with a black ribbon if you are only printing data. It is often faster and the cost price more advantageous if the quantities of cards to be printed are large.
Magicard Technical Service
A3M is Magicard distributor and technical service. If you would like technical information or have a problem with your Magicard 300 printer (or any Magicard of the 2021 printer range or earlier series printer), please do not hesitate to contact us. In addition to the sale of Magicard printers and consumables, we also offer support contracts and warranty extensions.