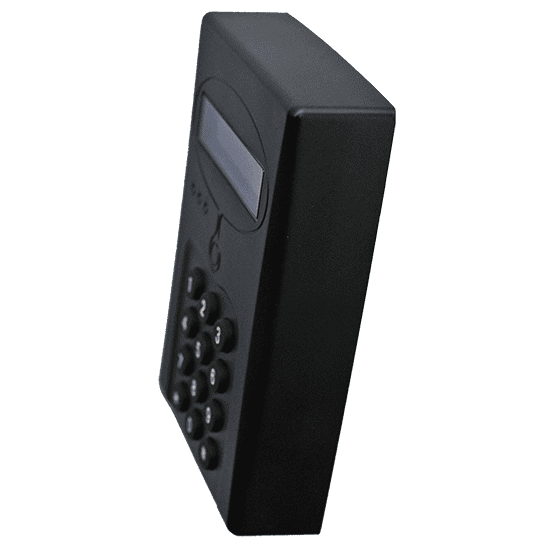 MIFARE® badge reader with display and keyboard
The A3M MIFARE ® badge reader with 2B protective case takes advantage of the exceptional characteristics of the range of LGM readers coupled with the extensive possibilities offered by the display and the keyboard. The access control terminal offers PIN code identification and interactivity with the user thanks its 2 lines / 16 characters display.
A compact RFID reader terminal
Despite the presence of the digital keyboard and the LCD display, the 2B reader remains particularly compact. It is a robust access control reader that offers IP65 protection which allows it to be used outdoors. A protective visor is recommended in order to optimize the visibility of the screen in the event of installation in direct sunlight.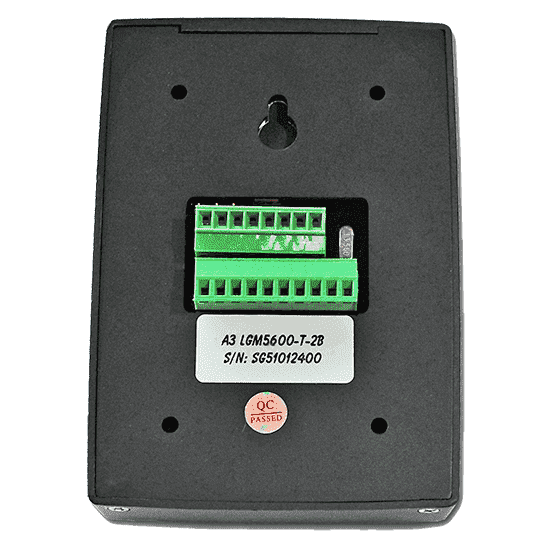 Connections in the access control system
LGM5600-2B reads and writes MIFARE ®, MIFARE Ultralight ® and MIFARE DESFire ® ID cards. It is available in the usual connections and in order to facilitate the management of its display and its keyboard, RS232 or TCP / IP versions are recommended.
Ideal for access control integrators
The LGM5600-2B reader offers system integrators the advantage of sharing the same RFID reading module with the other MIFARE ® 5xxx series card readers with which it shares a single SDK; developments made on the basis of these models can therefore be reused for other A3M readers. It was developed in the spirit of offering an easy to use, reliable and affordable MIFARE ® and MIFARE DESFire ® access control solution.
Real-time access control terminal
The LGM5620R version of the reader is in fact an advanced terminal capable of performing complete management of the RFID badge. It reads both the UID serial number of the 13.56Mhz badge (MIFARE, Ultralight, NTag213 or DESFire) and the content of its memory. It is able to operate complex management in terms of data and access security. This reader integrates an internal NO/NC relay output and can control the opening of acces control peripherals like the automated doors, automatic gates and access turnstiles.
Autonomous RFID access terminal
In the LGM9600 version, the reader is provided with an internal memory which allows it to transform into an autonomous terminal for access control and time attendance. Authorized access badges are saved in the terminal memery which opens the door from its relay contact. All events are saved and can later be downloaded to the access management software such as CardAccess3.