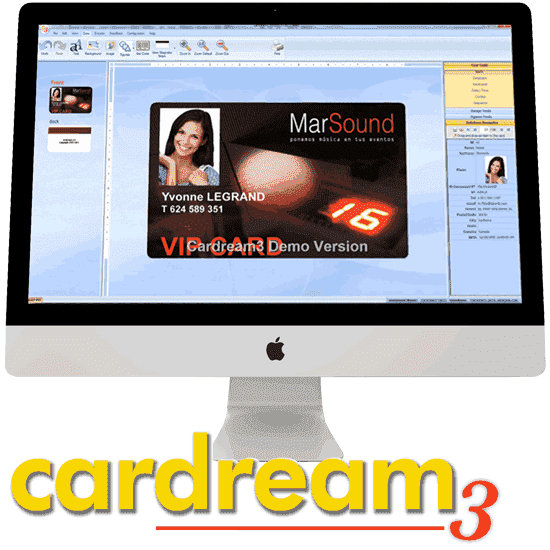 Tattoo2 is simple and easy to use thanks to its drivers and editing software
Both the printer and its Cardream3 software have been designed with users in mind. The Tattoo driver is installed in a few clicks and a few minutes later, you print your first cards. Tattoo2 comes with market leading card editing software, Cardream3 Lite, and therefore comes as a complete, ready-to-use package for creating badges.
Compact and ergonomic printer for counter or mobile use
Tattoo2 is the most compact ID card printer in its class! It naturally finds its place on any counter or desk. It is also easy to transport for mobile applications such as fairs, congresses, seminars. Tattoo2 offers the possibility of using its 100-card feeder, or its manual card-to-card insertion mode, whichever is more convenient for you at any time.
Color or monochrome printing flexibility
The ability of Evolis Tattoo to print in color or monochrome (several ribbon colors available) makes Tattoo a versatile printer. The change of printing ribbon is very simple thanks to the generous opening of its cover.
Quality, reliability and encoding options of the Tattoo2
Tattoo benefits from Evolis know-how and its recognized quality standards. The Tattoo 2 also has an optional 10-card receptacle, as well as a MIFARE badge encoder.
Color printed identification ID badge
Evolis Tattoo2 with its Cardream3 software package allows to produce your personalized company badges in an instant with an impeccable appearance and significant durability. The investment is measured and justifies the transition from plastic cardboard badges to modern badges giving your company a different cachet.
Low investment and efficiency
Tattoo is the ideal solution for small organizations who need to print a few cards from time to time, making a minimum initial investment and with very easy and reduced maintenance. On the Evolis Tattoo2 printer, maintenance is almost nonexistent and access is very easy.