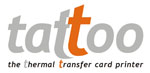 The Tattoo is the most compact card printer on the Market
With a footprint of an A4 page, it owes its extremely compact design to the completely new Lift Card System which allows the card to pass on two horizontal levels within the machine. Thanks to its innovative clamshell opening system, operating a plastic card printer has never been so simple.


All-in-one solution: Cardream3 Lite, the card personalisation software comes free with Tattoo.


Ribbon installation in one step thanks to the exclusive integrated core system.


Quick and easy maintenance of the cleaning rollers.


And if needed, the print head can be replaced in a snap with no tools nor additional adjustments.


Its price positioning and its low cost per card make the Tattoo the most cost effective monochrome card printer on the Market!


The Tattoo offers a simultaneously double operating mode: Card by card manual feeding from the front mouth and automatic feeding with the feeder for 100 cards from the back.


The Tattoo integrates a Ribbon Saver feature: you only use the ribbon length you need for the image to be printed; hence reducing your cost/card!


Tattoo Mag is its version that incorporates a magnetic encoder for magnetic cards.


Tattoo Rewrite is a special version which can print 500 times on the same card. See Tattoo Rewrite page.


And Tattoo Stand-Alone, a Tattoo printer with an intelligent keyboard, to make it a simple and mobile card personalisation system.